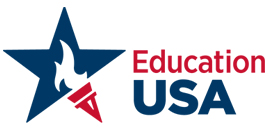 EducationUSA is a U.S. Department of State network of over 400 international student advising centers in more than 170 countries.
With thousands of accredited US colleges and universities in the United States, how do you find the one that is right for you? EducationUSA Advisers around the world offer information, orientation, and guidance as you search for higher education institutions in the United States that fit your needs.
Whether you plan to pursue a short-term or full degree program in the United States, EducationUSA has the resources you need in 'Your Five Steps to U.S. Study'.
1. Research Your Options
Learn about the variety of options available and how to identify an institution that best fits your needs.
2. Finance Your Studies
Need funding? Explore options or check out our university financial aid opportunity list.
3. Complete Your Application
Plan ahead and know the documents and requirements to apply for your program.
4. Apply For Your Student Visa
Become familiar with U.S. student visa requirements and allow plenty of time to prepare your application.
5. Prepare For Your Departure
Pre-departure information including gathering documents for arrival and immigration compliance.
Click here for a print-ready EducationUSA brochure (PDF).