Weekday Course ( 4 weeks)

* Mon. & Wed. or Tue. & Thu. ( 2 days per week)*

Time: 1:00-3:30 pm ,4.00-6.30 pm and 6.45-9.15 pm
(Tuition fee 4,000 Baht/ 1 Term/ 20 Hours)
---
Weekend Course ( 4 weeks)
*Saturday – Sunday ( 2 days per week)*
Time: 10.00 am – 12.30 pm and 13.00 pm – 15.30 pm
(Tuition fee 4,000 Baht/1 Term/ 20 Hours)
---
Junior Course (weekend)
:For M.1 – M.3 students only:
*Saturday-Sunday (2 days / week)
Time: 1.00 – 3.00 pm
(Tuition fee 4,000 Baht/ 1 Term/ 16 Hours)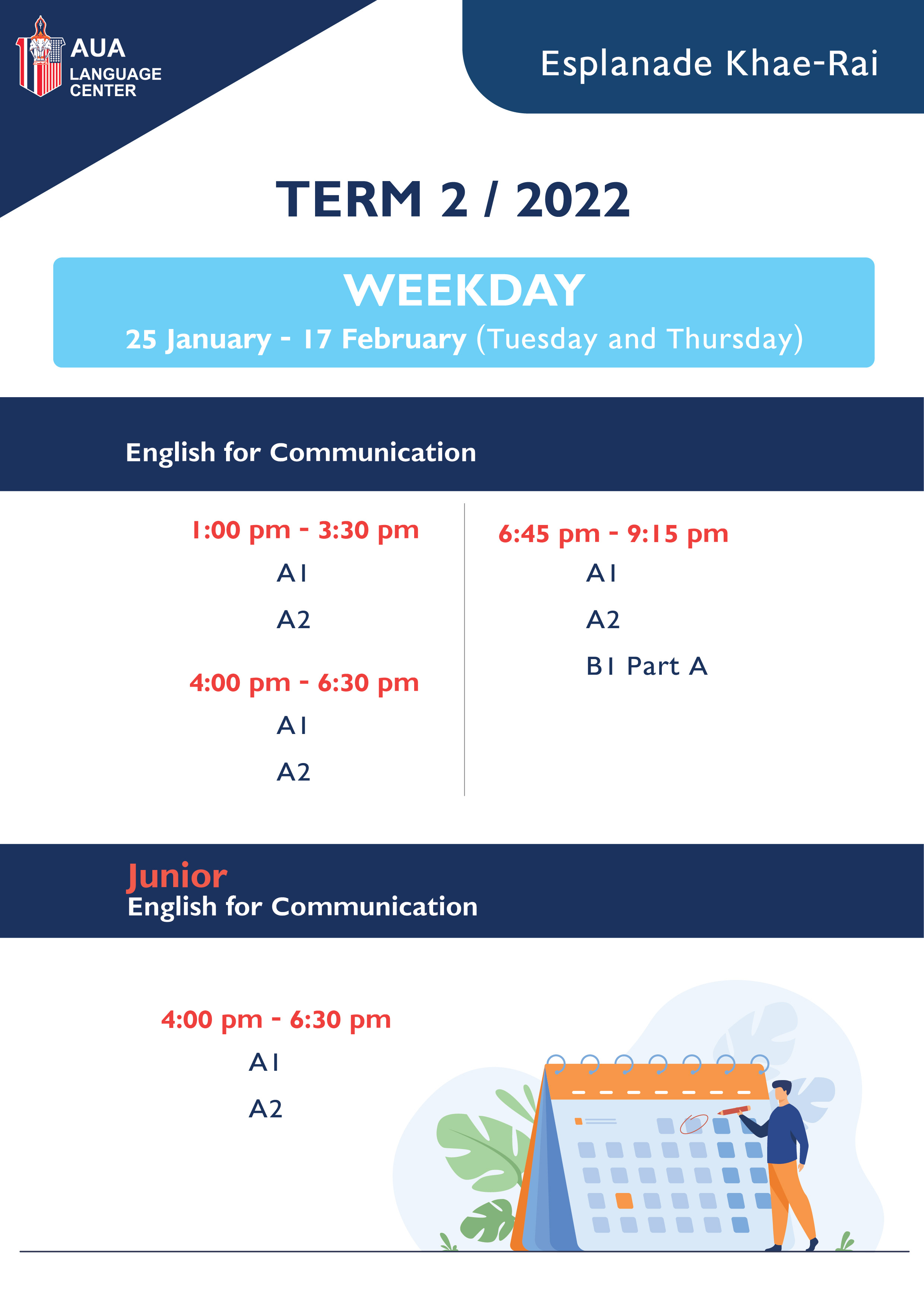 Placement Test Dates
Oxford Online Test (600 baht)
For Apply : Please contact : 02-5915011
Address
56 Esplanade Cineplex 2nd floor Bangkrasor, Muang Nonthaburi 11000 Thailand
Contact
Phone: 02 591 5011-2, 092 813 7808
Facebook: AUA Esplanade Kae-Rai
Have a question? Contact us!
Featured Courses
Course Description Like the English for Communication program, the AUA Juniors program helps learners aged 12–14, at all levels, to speak English confidently in everyday situations. We use a coursebook series designed for younger teens and we have FUN with English! Course Objectives To enable students to understand and use English in teenage situations, such as school, play and travel To give students the confidence to discuss and describe their hobbies, interests, and activities, as well as the people in their lives To increase student ability to acquire knowledge in English Course Learning Outcomes Upon completion of this course students will be able to… understand and speak English confidently in everyday teenage situations. demonstrate a level of fluency and accuracy in English that is expected at their grade level in school. better access information in English in order to gain knowledge. Course Structure: 5 Levels (90–120 hours per level) 6-week course (24 hours) 2-hour sessions 2 days a week 3-week course (24 hours) 2-hour sessions 4 days a week Hour Packets (Buffet) 24 hours 48 hours 90 hours Requirements Placement test for new students 12–14 years of age Services Course advisement ("Is this course right for me?) To contact an AUA Advisor, click HERE.
Facebook
Contact Branch