Schedule
Placement test
Monday – Thursday 9.30 a.m – 6.30 p.m
Saturday – Sunday 9.00 a.m. – 2.00 p.m.
Closed on Friday
Term 3/2020
Registration Today – 12 March 2020
Term Dates
Weekend 14 March – 5 April 2020
Weekday 16 March – 9 Appril 2020
Note: If these dates do not match your schedule, contact us and ask about our "buffet program" and begin study at nearly any time and on a a schedule that matches your lifestyle.
INFO
Address
2nd Floor, Prof.Prayoon Jindapradit Building, Burapha University, 169 Longhaad Road T.Saensuk A. Muang Chonburi 20131
Contact
Phone: 038 395 015, 062 704 1113
Fax: 038 393 469
Facebook: AUA Language Center Bang Saen
Line: auabs
Have a question? Contact us!
Hours
Mon – Thu 9.00 – 20.30
Sat – Sun 8.30 – 17.00
Closed on Friday
TRAVEL
AUA Bangsaen can be found just inside the main entrance of Burapha University on the right, past the First roundabout.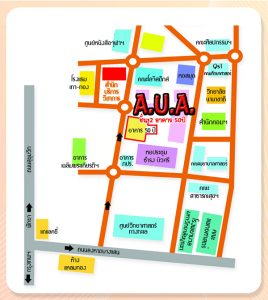 Featured Courses
AUA's EAP program offers three different levels which will take you from Getting Started, through Getting There to Being There. Each level has 2 components: Reading & Writing and Listening & Speaking. These courses provide English language preparation and academic skill development for students who are planning to study in an overseas university or in local university international programs. The program is designed to strengthen: language skills for academic study in an English speaking university setting academic presentation skills critical thinking skills the ability to learn independently *For 2017 academic terms, this course is offered in Bangkok-area branches only. Reading & Writing Component These sessions focus on reading and writing and are designed to develop and practice the reading, writing, and critical thinkingstrategies needed for analyzing and responding to academic texts. Strengthen your… Grammar Organization Vocabulary Improve your writing… Accuracy Fluency Listening & Speaking Component These sessions develop the listening and speaking skills needed for active participation in university-level courses. Learn how to… Take effective notes, Give presentations Lead and participate in class discussions Practice… Asking questions Sharing opinions Expressing agreement and disagreement Course Learning Outcomes Upon completion of this program students will be able to… have gained the ability to employ relevant tactics for distinct tasks, ranging from giving presentations to preparing coursework for overseas study be able to use rhetorical and logical language and tactics to express ideas effectively in writing engage critically with issues and express conceptual ideas fluently in academic English Course Structure 3 Levels (120 hours per level) 6-week course (60–120 hours per week) One or two 2.5-hour sessions per day, 4 days a week Requirements EAP Placement test for new students AUA Platinum (B1–B2 on the CEFR) Services Course advisement ("Is this course right for me?) To contact an AUA Advisor, click HERE.
Facebook
Contact Branch